June 4th, 2013
Of Meat and Art
There's a fair amount of fine art around meat and slaughter. Most famous might be the paintings of Francis Bacon – several friends guessed that the image Harper's magazine used to illustrate my cover story was by him. (In fact, those hanging sides of beef are the work of Russian-born Alex Kanevsky.) I've never forgotten a scene in James Salter's A Sport and a Pastime where the characters, out drinking at night, happen upon an open-air abattoir in les Halles: "It's like coming upon a factory in the darkness. The overhead lights are blazing. The smell of carnage is everywhere, the very metal reeks with an odor denser than flowers." Lately I've been reading The Cow, a collection of violent, visceral poetry by Ariana Reines; among the texts incorporated into her verse are passages from The Merck Veterinary Manual.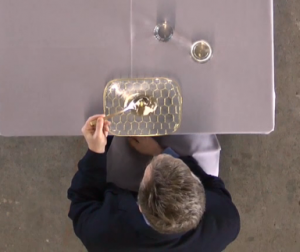 Last month Tak Cheung, an artist in NYU's edgy Interactive Telecommunications Program, emailed to if I'd be willing to help out with his thesis project. My job would be to eat a special meal he would serve me, in a Brooklyn warehouse, while being videotaped. At first I didn't respond — it was an odd-sounding request, I didn't know him, and I was busy, as usual. But he persisted: he had read my article, and (though he declined to say why) I was his perfect diner. I called him. We talked. There would be two diners served, at successive sittings. Australian art curator Amanda McDonald Crowley would go first. The food, prepared by two young Brooklyn chefs, would be delicious, he promised. But he wouldn't tell me what it would be. He also intimated that how the food would be served was significant–but again, part of the project was that I couldn't know details in advance.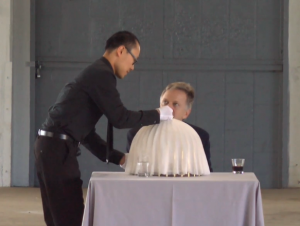 I said okay. I will ruin just enough of the surprise to tell you that dessert was chicken ice cream, served inside a "sculpted chicken head made of white chocolate." Several ingenious creations preceded that, and the whole event (which you can watch below) is a thoughtful commentary on poultry production.

Click here to open in new page.
Leave a Comment | Trackback