January 28th, 2012
Yo, CO! Vinny Retires
I was lucky, when I entered corrections some years ago, that my training instructor was Vinny Nigro. He was a man of exacting standards who had a great sense of humor — mostly at his own expense. ("The inmates call me Abbott," he said, a reference to the fat member of the Abbott & Costello comedy duo of the 40s and 50s.) That humor was a welcome relief in the boot camp atmosphere of corrections academy in Albany. I wrote about Vinny in Newjack and was glad to learn he wasn't sore about it. Just the opposite, in fact — he seemed delighted.
This week Vinny retired from the department, after 31 years of service that began when he was 18. And last night I attended his retirement party in Napanoch, New York.
Over 200 people were there — a fitting tribute to a man who was immensely popular among his fellow correction officers (CO's). Vinny's humor was in full flower: "I'm 300 pounds but tonight I feel like I'm floating," I heard him say as I walked in. I was a bit on edge–not everybody in New York corrections loves me. The second person Vinny introduced me to, as it happened, was the guy at Eastern Correctional Facility who tears the seven pages out of Newjack when a prisoner receives a copy in the mail … my censor! But the man seemed perfectly nice and after all, it's not his idea.
Vinny and his wife, Val, sat me next to Dave Miller, a respected former superintendent of Eastern who, it turns out, had a dog-eared copy of Newjack in his pocket. He teaches it in his course at the local community college, he explained. That made me feel better when the current superintendent, digressing from his roast of Vinny, mentioned that my book had upset a lot of people–a lot of people, he repeated, making me suspect that he was possibly one of them. Soon after came the first of several friendly, joking offers by various people to escort me to my car at evening's end.
Fortunately, my presence was gradually forgotten as the night progressed–as it should have been, because it was Vinny's moment in the sun. Friends remembered hijinks and capers galore, one of my favorites being the wager he placed with a newjack working South Hall at Eastern. "I bet you lunch that I can make all the inmates flush their toilets at the same time," Vinny was heard to tell the rookie. "You're on," said the man. Vinny then stepped out on the flats where all the prisoners could hear him:
Could I please have everyone's attention? I need everybody to help me by not flushing their toilets for the next couple minutes. We've got a sewage problem and it's all backing up into the CO's office.
They said the roar of flushing toilets was deafening.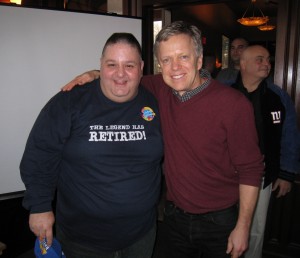 Leave a Comment | Trackback