November 21st, 2011
Warm/Cold Turkey Breast
On Thanksgiving, I will be among the millions of Americans who have the somewhat unpleasant experience of handling a raw turkey, recently out of the refrigerator, relieved of its plastic coating. Somebody has to rinse the big clammy thing, pat it dry with paper towel, and otherwise prepare it for the oven. In our family, that person is me.
Every time I do, I think of Tess. Tess was a turkey that our neighbors in New Hampshire found walking down the road. She was a domestic turkey, not a wild one, and she had evidently been hit by a car, which messed up a bunch of her feathers. The neighbors nursed her to health and she lived several more months.
You could see Tess in their yard from the road, and one day we stopped for a better look. She stood near Sandy, who was gardening; Sandy explained that Tess followed her everywhere. She encouraged our kids to stroke her feathers and big soft blue-red wattle, which evidently changed colors with the turkey's mood. We noticed that Tess had a long, coarse beard—turkeys have so many interesting parts. Finally she suggested reaching down to touch the bald spot on Tess's breast. It was a round patch, about four inches wide, where the feathers had not grown back, and what I'll never forget was how warm Tess's skin felt. It was pale and stippled with feather follicles like the skin of a Thanksgiving turkey, but otherwise it was completely different: it felt good to touch.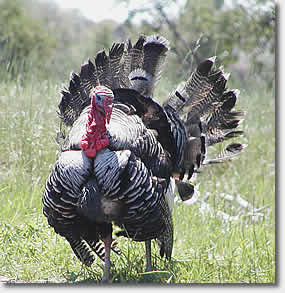 I suppose the story could end here, with a reflection on how Tess makes me feel bad to eat turkey. That's true to some extent. But I love eating turkey, and it would be truer to say that Tess makes me appreciate my meal: behind the cold carcass that I cook was a creature that was warm already. I try to honor it by cooking it right.
*   *   *
The feel of Tess makes me think of something else that is both edible and unexpectedly warm.
In New York we often shop at the Fairway market's Harlem location, at West 132th Street and the West Side Highway. This is a great place, chaotic and usually crowded, but eccentric and full of thousands of good things to eat. It has a famous produce section, a large "cold room" containing meat, fish, dairy, beer, etc. (and a wall of jackets on hooks you can borrow to wear in the cold room, if you didn't bring one), a heavenly coffee section, a cheese counter, etc. Between the fresh bagels and the barrels of olives is a station where, all day long, one or two employees make fresh mozzarella cheese. It is sold in balls, salted or unsalted. As soon as a ball is ready, it is wrapped in plastic, slapped with a label, and placed on a tray in front of them, where customers can take it.
It's so warm that the plastic wrap around it blows up slightly with air, balloon-style. Until my wife brought home the first ball of fresh mozzarella, I had no idea that cheese, like turkey skin, was ever warm. She unwrapped it, put it on the cutting board, and sliced a piece for me. As she did, a bit of milk seeped out. One slice was not nearly enough. I ate another piece, and another, and another. Refrigerating what's left takes out a good deal of the glory of the cheese.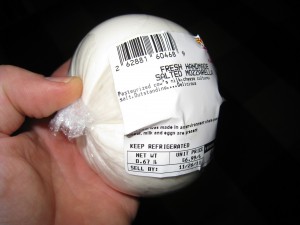 So here's what to do next time you're in that part of New York. Bring a small knife. Go to Fairway, buy the cheese and, say, a fresh baguette. Then take them outside–there's a newish park next to the Hudson River. If it's cold the cheese will warm you up; in any event it will cheer you. My son saw a big splash out there in the river one day when he was little and swore it was a whale. This is unlikely but it reminds us of an amazing fact: that the ocean is traversed by mammals, warmth where you least expect it.
Leave a Comment | Trackback