April 29th, 2011
A sweet new lit mag
As literature struggles to retain its place of importance in our cultural life, it's thrilling to see the birth of a new and serious magazine. The first issue of The Common, just released, is beautiful to look at, inspiring to read — and now on sale in better book stores! The Common also has an online presence, here.
The journal's title and mission come from blending the idea that literature is rightly about "finding the extraordinary in the common" with the notion of the town common as a place to gather and exchange ideas. Editor Jennifer Acker writes that they seek "a modern sense of place."
That idea is close to my heart and I am delighted to have my meditation on an abandoned route in New Hampshire, Brown Road, appear as the first piece of the new issue. I'll be reading from "Brown Road" at a launch event for The Common in Brooklyn on May 7 — drop by if you're in the area.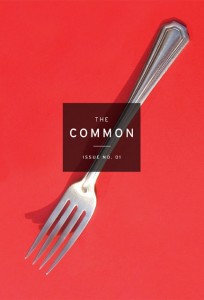 Leave a Comment | Trackback