June 29th, 2010
In Memoriam: My Olympus OM-1
Though I'm always after my wife for saving too much stuff, in fact I have the same problem. One thing that's been particularly hard for me to get rid of is my first good camera, a compact SLR called an Olympus OM-1. My attachment to the Olympus, a device which has long since outlived its usefulness, has to do not just with the many events it has helped me capture over the years, but to its own adventures while not under my control.
I can date the camera by the first photos I took with it–I was living in East Dallas at the time, working for VISTA on a year off from college. I'd been home to Colorado for the holidays and returned to Dallas, camera in hand, on the day after a big ice storm.
I was living in an old apartment owned by an old woman with an old car. The address was 5818½ Reiger. The faucet in my bathroom sink leaked, often creating a cool bubble.
Here are some of my VISTA pals around my car at an anti-nuke rally near Austin.
In the spring, I took a couple of weeks off and traveled to Mexico. A friend from high school, Lara, joined me in El Paso. We took the train from Chihuahua down through the Copper Canyon to Topolobampo on the Gulf of California. It was a beautiful spot, but it became more beautiful in my mind when I got back the pictures I took there: deep blue sea, whitewashed brick, sunset skies–all a bit faded over the years:
Back at college, I documented backpacking trips with my longtime girlfriend, Teresa,
and, playing around with black-and-white film, with my best friend, Jay.
But my camera's real adventures it experienced all on its own.
I wrote parts of Whiteout in a small house I owned in Denver. The house was divided in two: I lived upstairs, my tenant lived on the ground floor, and we shared the laundry in the basement. There was a storeroom next to the laundry, and when I moved to New York I locked the OM-1 in there.
It was promptly stolen. I found out when the pawn shop owner who had received it noticed an identification number engraved in the bottom and called the police: I had registered the camera with the department years before. The police found me and asked if I recognized the name of the man who had tried to sell it–he was my tenant, the art student! He was soon looking for another home.
The camera clearly wasn't safe in Denver, so I brought it with me to New York. Before a trip to Africa, I took it by an electronics store on Madison Avenue to buy a new battery and some film. Three days later, right before I was supposed to leave, I realized I didn't have the camera! Had I left it in the shop? I went back and had begun explaining to a salesman what might have happened when my eye wandered to a shelf behind him: there was my OM-1, with a price tag on it! I stopped in mid-sentence and just pointed: I think that's it, I said, preparing to make a federal case for its return. The man didn't even blink–he just took it off the shelf and handed it to me. (The shop had been trying to sell it for $349.99.)
Photography, meanwhile, had been going digital, and the OM-1 headed into my new basement, in New York, and a quiet retirement. Then, this spring, I left town for ten days on my book tour. While I was away, a huge storm dropped several inches of rain on our house, after which winds blew down our neighbor's tree: it fell on a power line. My wife and kids were without electricity for four days. On the second day they discovered that the basement had flooded–without power, the sump pump that normally keeps it dry was useless. More than two feet of water welled up, thoroughly soaking many valuables … among them the OM-1.
Or was it a valuable? A more hard-nosed person would probably have just thrown the 25-year-old camera in the trash. But that camera had helped me remember a lot of great stuff. Once it dried out, I took it down to the used camera counter of B&H Photo in midtown to see if it still had value and was worth getting repaired. The Hasidic guy behind the counter opened the back, he took off the lens, he peered through the viewfinder as I had done so many, many times. "There is rust," he observed. He placed it back on the counter and looked the other way. "It's worth nothing to me," he said gruffly.
I was not surprised. But I realized I was not quite finished, either; I was seeking an answer to a slightly different question, one I had harbored for some time.
"So I should just throw it away?" I asked. He shrugged. That was not for him to say.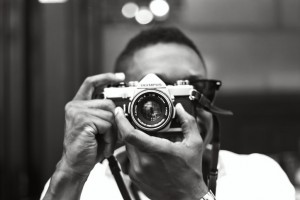 Leave a Comment | Trackback